Best School Bus Camera Systems
Date Time: September 26, 2023
Reading volume: 222
Author: YUWEITEK
Best School Bus Camera Systems
The school bus management system is a software product specifically designed for schools or kindergartens to efficiently manage and operate their school buses. The system encompasses various functionalities, including:
1. Real-time positioning and monitoring of the school bus's location and status to ensure student safety and timely arrivals.
2. Improving operational efficiency and cost savings through statistics and analysis of bus usage.
3. Managing student transportation information and bus schedules for parents and school staff to easily access and stay informed.
4. Generating operational data and reports on vehicles and students to support management supervision and decision-making.
5. Comprehensive safety measures, such as onboard cameras for recording and alarms, to ensure safe bus operations.
The school bus management system enhances transparency and understanding of bus operations for schools and parents while ensuring the safety and convenience of student transportation. Furthermore, with ongoing technological advancements, the system will continue to be upgraded and improved to meet future development needs.
Real-time recording and storage
The intelligent onboard video terminal on the "school bus" records and stores the entire journey inside and outside the running vehicle in real-time. The recording is stored for multiple days (depending on the capacity of the storage media; the intelligent onboard video terminal consists of a main host with an SD card and a main host with a hard drive).
Deployment of onboard cameras
Multiple high-definition, shockproof, and night vision-enabled onboard cameras are installed on each vehicle (the number of cameras installed can vary according to customer requirements; cameras are installed inside and outside the vehicle). Please refer to the specific configuration in the diagram below: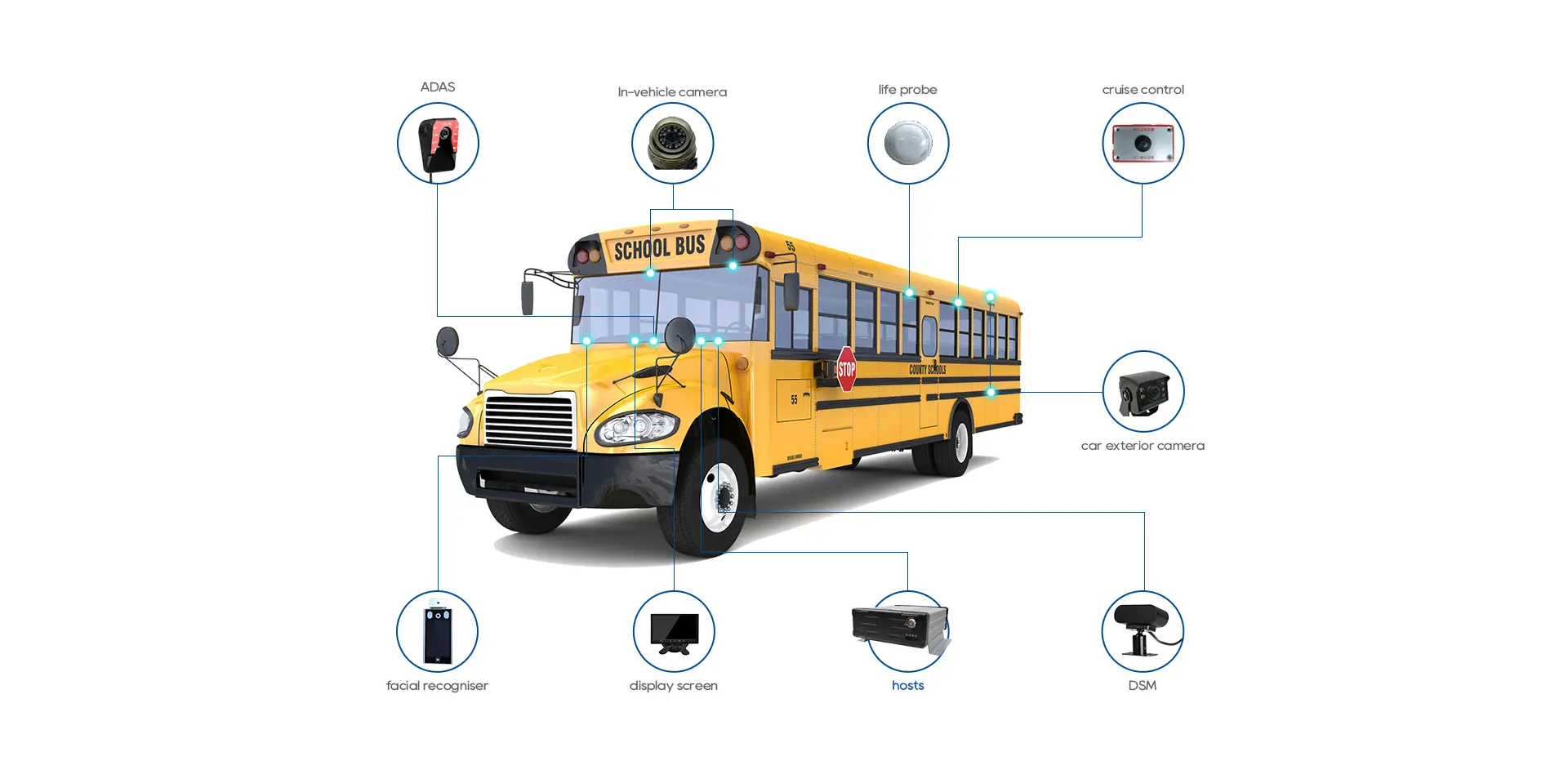 4G network transmission and BDS GPS satellite positioning
The onboard intelligent video terminal device uses the 4G network and the BeiDou GPS dual-mode satellite positioning device to transmit real-time mobile video and satellite positioning data synchronously to the monitoring center management platform. The onboard intelligent video terminal device locks onto the monitoring center's fixed IP dedicated line address for fixed transmission, ensuring secure and confidential data transmission.
Remote monitoring center management
The software platform features a central monitoring and network management system, which enables the real-time transmission of video, audio, and BeiDou GPS satellite positioning data from the "school bus" equipped with the intelligent onboard video terminal device to the monitoring center. This allows for a dual display of real-time transmitted video+real-time location, GPS satellite positioning, and the vehicle's position and travel information on the electronic map.
Playback of historical recordings
In the event of an incident or other abnormal situations, authorized personnel can replay the recordings either through the intelligent onboard terminal device on the "school bus" or remotely through the monitoring center.
Remote instant voice communication (optional)
During the bus's operation outside, the vehicle can call the monitoring center for assistance, and the monitoring center can also call the driver onboard at any time, enabling real-time communication.