Commercial Truck Camera Systems
Date Time: October 05, 2023
Reading volume: 176
Author: yuewitek
Commercial Truck Camera Systems
Commercial truck camera systems have become an essential part of ensuring safety and security while transporting goods on the road. With a rise in thefts and accidents, the need for advanced surveillance technology has become more crucial than ever.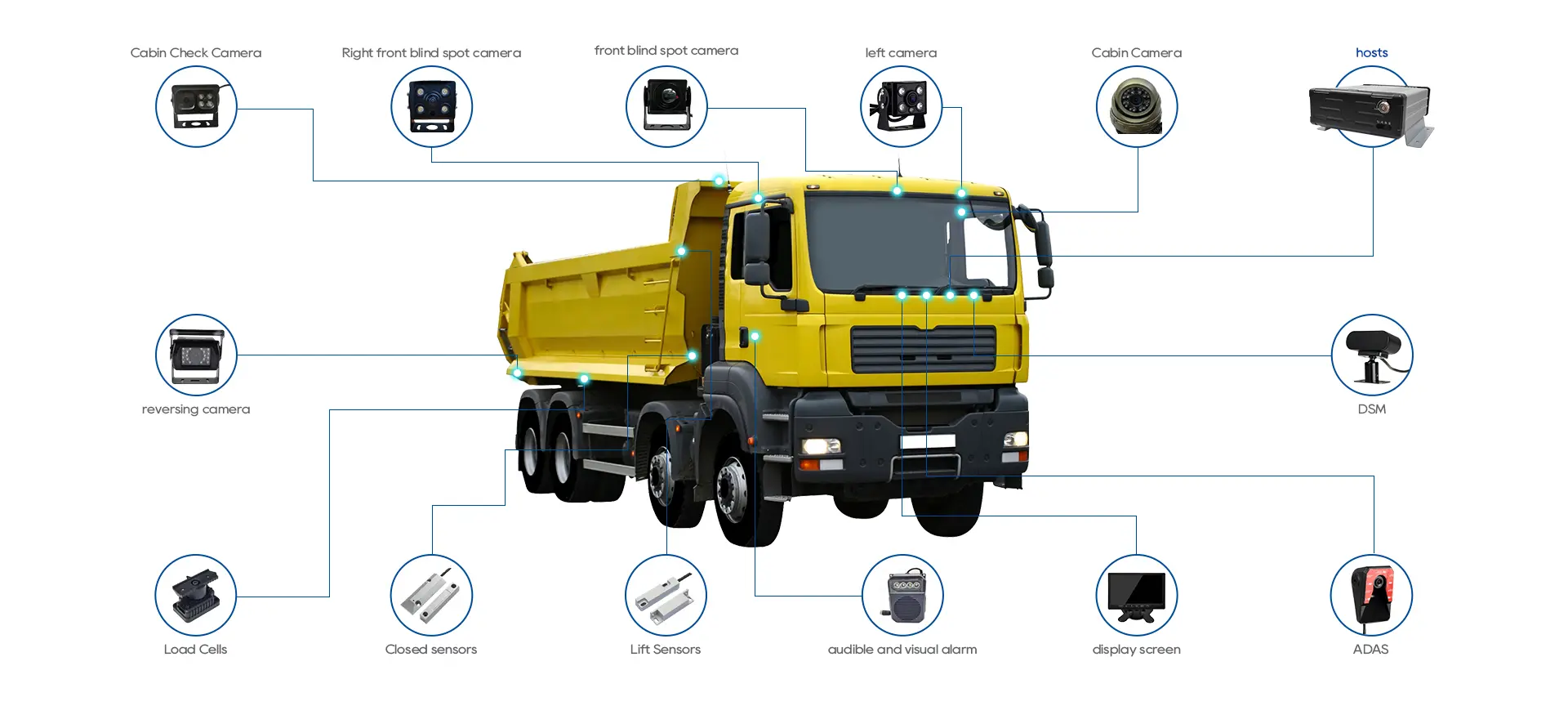 * Commercial Truck Safety Issues

When drivers are out on the road, they face a range of safety issues, such as thefts, road accidents, and harsh weather conditions. These issues can lead to significant financial losses, damage to reputation, and even legal problems. The lack of proper surveillance systems can make it difficult to identify culprits and collect evidence.
* Supervision issues of commercial truck drivers
Commercial truck drivers may not always follow proper protocols and some even participate in illegal activities. The lack of proper supervision and monitoring can lead to theft of goods, abuse of company resources, and other unauthorized activities.
* Video Surveillance issues of commercial trucks
Many commercial trucks have basic GPS tracking systems, but lack advanced video surveillance capabilities. This makes it difficult to capture and retrieve video footage in case of emergencies, leading to delays in investigations and identification of suspects.
Solution Description
To address these issues, commercial truck camera systems offer advanced video surveillance capabilities, including mobile video surveillance technology, 4G wireless communication transmission technology, high-capacity data storage technology suitable for harsh environments, GPS vehicle tracking technology, and real-time event notifications. These camera systems provide a comprehensive monitoring management system for precise monitoring of all vehicles.
The system collects real-time video information of all vehicles, promptly discovers improper behaviors or unauthorized profit-making activities, investigates and collects evidence, handles relevant personnel, provides visual basis for logistics vehicle command and dispatch decision-making, and improves vehicle scheduling efficiency. It also gathers technological information from all vehicles, providing scientific and reasonable data resources for relevant business management systems, facilitating the improvement and provision of services by relevant departments.
In conclusion, commercial truck camera systems are an essential tool for improving safety and security on the road, preventing unauthorized activities, and ensuring efficient logistics operations.
Truck Camera Systems
(ADAS Cmaeras)360 Camera Stystem
Through ADAS software algorithms, advanced driving assistance functions such as lane departure warning, lane keeping, collision avoidance or pre-collision detection, pedestrian protection, adaptive lighting control, and traffic sign recognition can be realized.
(BSD Camera)360 Camera Stystem
It can transmit real-time images to the algorithm host, identify pedestrians in blind spots, and perform pedestrian collision warnings in dangerous areas. Both in-car smart prompts and external audio are used. Optical alarms provide two-way danger reminders for drivers and pedestrians, thereby greatly reducing traffic accident rates.
(DSM Camera)360 Camera Stystem
This device can perform real-time monitoring of the driver's fatigue status and unsafe driving behavior, provide timely voice safety warnings, and report to the management platform.
(waterproof backup camera)360 Camera Stystem
The BSD camera is a camera mainly used to monitor the blind spot on the right side of the vehicle. It can transmit real-time images to the algorithm host, identify pedestrians in blind spots, and perform pedestrian collision warnings in dangerous areas.
(HD HOD Camera)360 Camera Stystem
HOD HD Driver Camera is suitable for monitoring the driver's hands leaving the steering wheel, playing with mobile phones, and seat belt monitoring systems. It can be used with the host algorithm to monitor the driver's dangerous driving behavior and other functions.
(Audible alarm)360 Camera Stystem
This is an intelligent audio and visual alarm device designed for use in dump trucks, buses, coaches, trucks, and special vehicles. It is equipped with a high-power speaker and a high-intensity flashing A light. It has an RS232 interface for setting alarm sounds and flashlights. The device has an aesthetically pleasing structure, easy installation, and is dustproof and waterproof, paired with an aviation connector.
commercial truck camera systems benefits
1. Reducing false claims: By utilizing the lens of a truck dash cam, it can provide accurate driving records, thereby reducing the likelihood of false claims.
2. Incentivizing safe drivers: By using safety data, drivers can be incentivized to adhere to traffic rules and safe driving guidelines.
3. Improving driver training: With the help of a truck dash cam and relevant video clips, driver training can be enhanced by providing real-life cases and teaching materials to help drivers improve their driving skills and awareness.
4. Speeding up insurance claims: In the event of an accident, the detailed records and video clips provided by the truck dash cam can expedite the insurance claims process, reducing the need for lengthy investigations and disputes.
5. Protecting innocent drivers and relieving them of liability: When drivers are not at fault, the records from the truck dash cam can offer protection and relieve them of unnecessary responsibility and blame.
What is a multi-camera system?
A multi-camera system is a dashcam that can be expanded to support front and rear cameras, as well as an in-cabin monitor. With external cameras (such as side cameras) that can capture all angles, this dashcam provides 360-degree panoramic views of the surroundings, eliminating blind spots and enabling drivers to have a full view of the rear and sides. These types of cameras are best suited for drivers operating large vehicles (such as semi-trucks or tractor-trailers) so that they can have a complete picture of their surroundings.