Multi-camera Dash Cam
Date Time: November 10, 2023
Reading volume: 45
Author: ROYI
A multi-channel multi-camera dashcam is a safety device for vehicles that can simultaneously record videos from multiple angles. It consists of a central control unit and multiple cameras to cover various directions around the vehicle, such as front, rear, left, and right, in order to record a comprehensive view of the driving situation.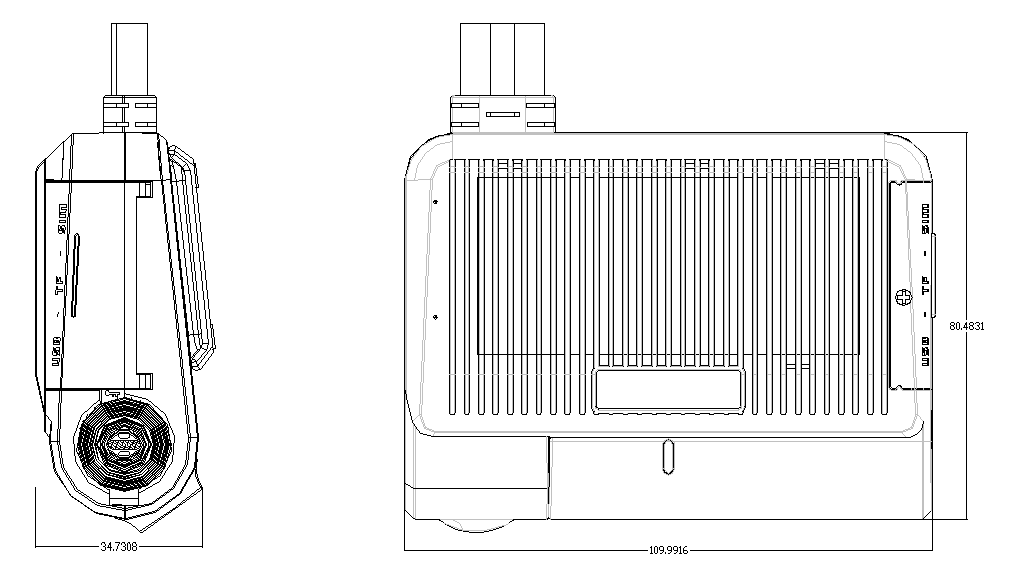 These dashcams work by capturing and recording videos from multiple cameras simultaneously, and then saving the video data to storage devices such as SD cards or hard drives. When accidents occur or evidence is needed, the recorded videos can be used to recreate the sequence of events.
These products are suitable for professional drivers, commercial vehicle fleets, and family road trip vehicles, especially for long-distance passenger vehicles, trucks, taxis, and other vehicles that encounter complex road conditions and traffic environments.
Typically, this type of dashcam offers the following features:
1. Multi-channel recording: It can simultaneously record videos from multiple angles to provide a comprehensive view of the surroundings.
2. High-definition recording: Support for high-definition video recording to ensure clear video quality.
3. Loop recording: It can continuously overwrite old recordings to save storage space and avoid the hassle of manually deleting videos.
4. Emergency locking: In the event of a collision or emergency, relevant video segments can be automatically locked to prevent overwriting.
5. GPS positioning: Some models may come with GPS positioning functionality to record the vehicle's trajectory and speed.
6. Parking monitoring: Supports parking monitoring to record the surroundings while the vehicle is parked, preventing collisions or scratches.
Installing a multi-channel multi-camera dashcam can bring several benefits, including:
1. Accident evidence: Providing comprehensive video evidence to aid in determining and handling accident liability.
2. Fraud prevention: Helping to prevent scams such as staged accidents and fake insurance claims.
3. Safe driving: Reminding drivers to drive safely, promoting civilized driving behavior.
4. Vehicle management: For fleet managers, real-time monitoring of vehicle operation can improve management efficiency.
Therefore, multi-channel multi-camera dashcams play an important role in enhancing driving safety, protecting rights, and improving vehicle management.









Parameter classification

Parameter item

Details

Remark

Basic parameters

Appearance

device integrate with ADAS cam




Product Type

4G DVR Car Video Terminal




network standard

4G Global Band




Memory

256MB(Flash)+1GB(DDR)




Front camera

(ADAS Camera)

1080P, MIPI Camera, H:112°V:55°




In-car camera

AHD 720P, with light sensor/infrared night vision,




DSM camera

AHD Camera, single pass, infrared night vision, H=60° V=42°




4th Channel camera

AHD 720P




Hardware function

GPS

Support: GPS+BDS




Wi-Fi

802.11b/g/n




trumpet

8 ohms 1.5 watts, 1 channel, with sound cavity




MIC

Built-in dual silicon microphone design




Accelerometer

3-axis accelerometer




Interface

micro 5Pin USB

USB×1, data interface




BMW connector

Power+/GND

ACC

Left turning signal cable

Right turning signal cable

SOS Cable (Panic button)




RS232

1*RS232




SIM card holder

Micro SIM




TF card holder

TF×2 (Card 1 and Card 2 support circular storage)




Power supply

Power supply

12V/24V power supply




Button&

Indicator light

Reset button

Long press the power button for 8 seconds to reset




indicator light

2-color indicator




Alarm key

Standard emergency alarm connector




Antenna

GPS Antenna

Built-in ceramic antenna




4G antenna

Built-in FPC+IPEX transposon




WIFI antenna

Built-in FPC+IPEX transposon




Memory card

4G~2TB, patented DXR streaming storage format




Electrical Specification

Operating temp.

-20℃~70℃




Storage temp.

-40℃~85℃




Static Protection

6KV contact, 10KV air




Vibration test

Car vibration




Current consumption

When the working voltage is 12V, the current is from 500mA to 1A (depending on whether the algorithm is turned on, etc.)

When ACC OFF: ≤3mA




Other quality requirements

According to JT/T794 standard (including hard test, soft test, reliability, quality, etc.)