Yuwei won the honor of "Excellent Enterprise in Automotive Electronics Technology Innovation"
Date Time: March 25, 2015
Reading volume: 122
Author: yuwei
On March 25, 2015, the Shenzhen Automotive Electronics Industry Association held the "2015 China (Shenzhen) International Automotive Electronics Industry Annual Conference" with the theme of New Situation, New Roads, and New Countermeasures in Futian District, Shenzhen. This event invited relevant government business authorities, vehicle manufacturers, 4S groups, automotive service providers, leading companies in various fields in the automotive electronics industry, various automotive-related new product companies, representatives of domestic and foreign friendly business associations, and industry media. A total of more than 400 people attended. This is an annual event for China's automotive electronics industry and a platform for exchanges and cooperation between automotive manufacturers and the automotive electronics and related key automotive parts industry chains. the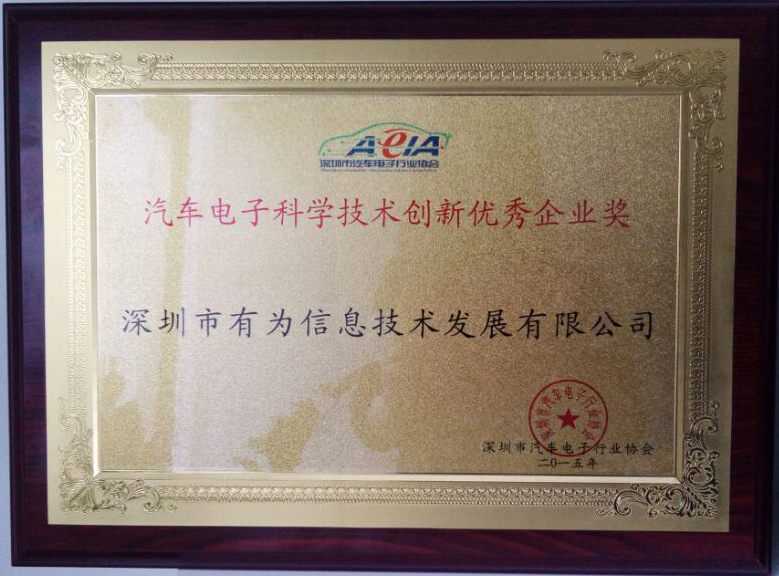 At the "Automotive Electronics Science and Technology Awards Ceremony" held at the same time, yuwei won the honor of "Excellent Enterprise in Automotive Electronics Science and Technology Innovation", and praised Shenzhen Yuwei for its scientific research, technological innovation and development, promotion and application of scientific and technological achievements in the field of automotive electronics, It has made outstanding contributions in the industrialization of high-tech and the construction of major projects.