The Best Dual Dash Cams 2022 UK
Date Time: September 21, 2023
Reading volume: 148
Author: royi
The Best Dual Dash Cams 2022 UK
For fleet teams, the significant risks faced by employees driving to work become even more complex due to the high cost of fleet vehicle accidents. In the most expensive corporate claims, the average cost of losses related to fleet accidents may be twice the average cost of workplace injuries.
Furthermore, besides damage to vehicles and other properties, such accidents can also lead to productivity and income losses. When employees are at fault, the company will face liability claims and incur direct costs for operating self-insurance.
Yuwei Dash Cam V5
The Intelligent Video Telematics V5 is a feature-rich 4G Dash Camera designed for the video surveillance industry.
It supports up to 4 channel cameras, offers real-time audio and video recording, and utilizes dual TF cards for storage. With Global 4G network connectivity, it enables live video transmission, while GPS/BDS positioning ensures accurate tracking.
The V5 also integrates built-in active safety algorithms (ADAS, DSM) for enhanced security. Widely used in online car-hailing, taxis, logistics, and official vehicles.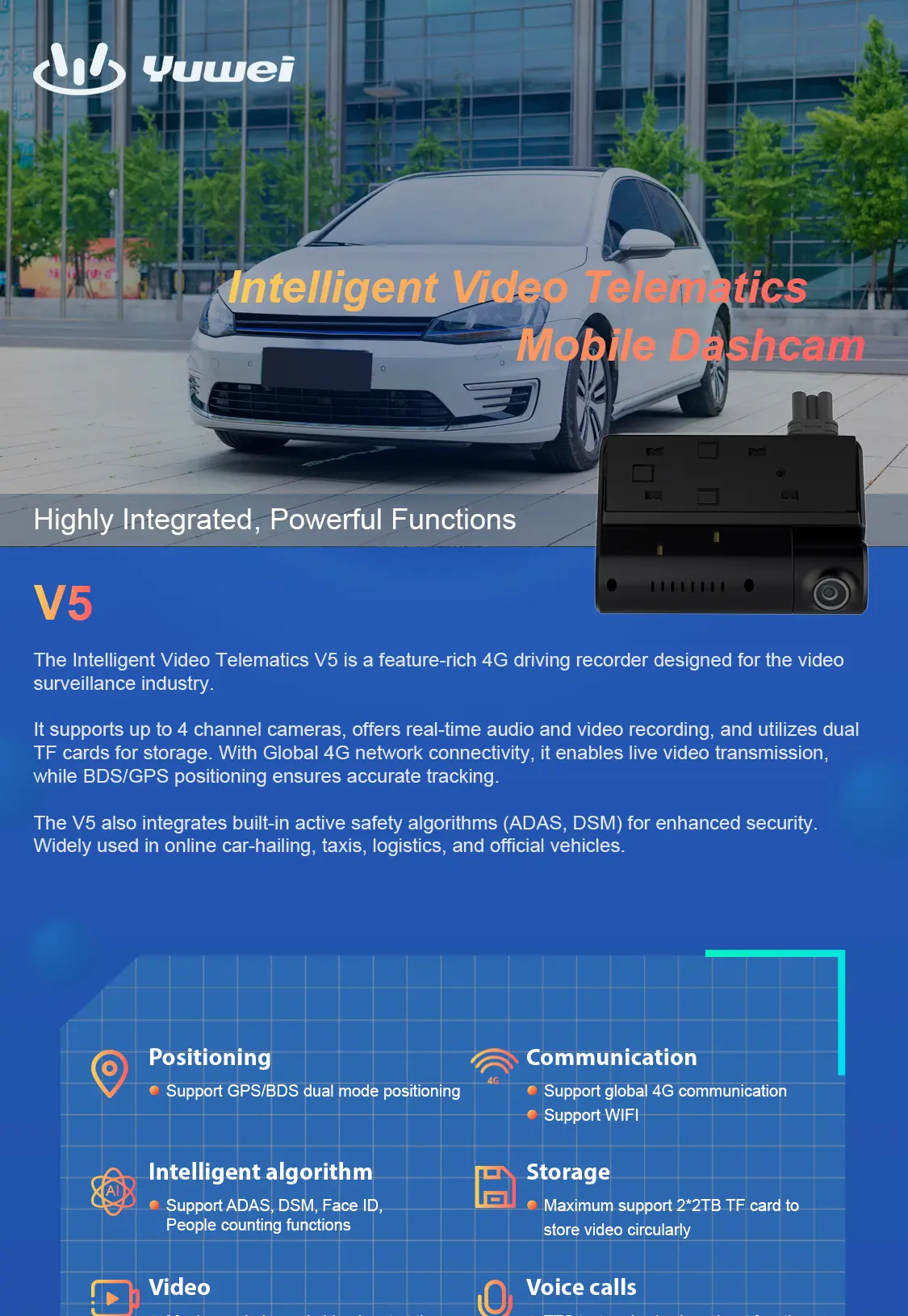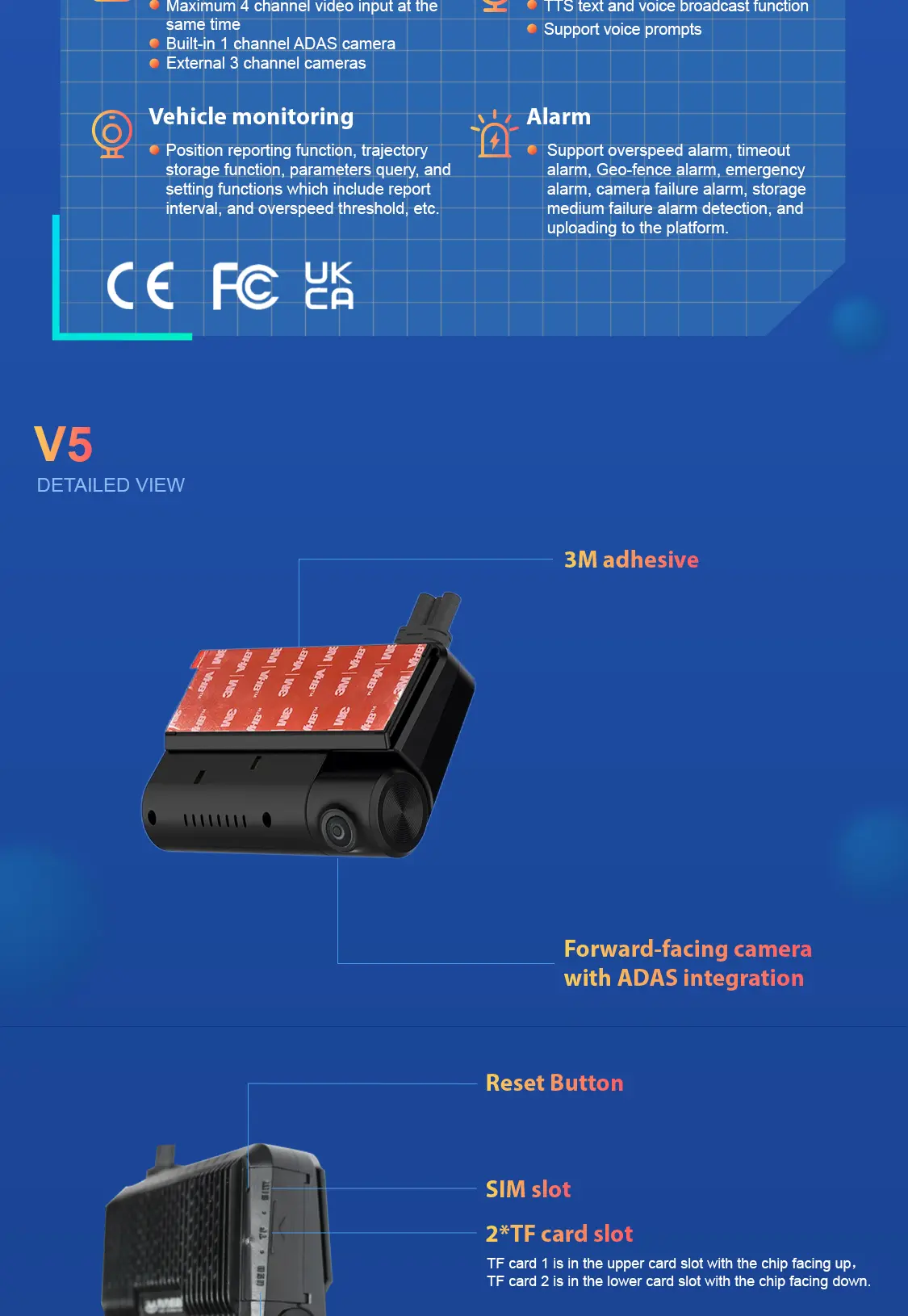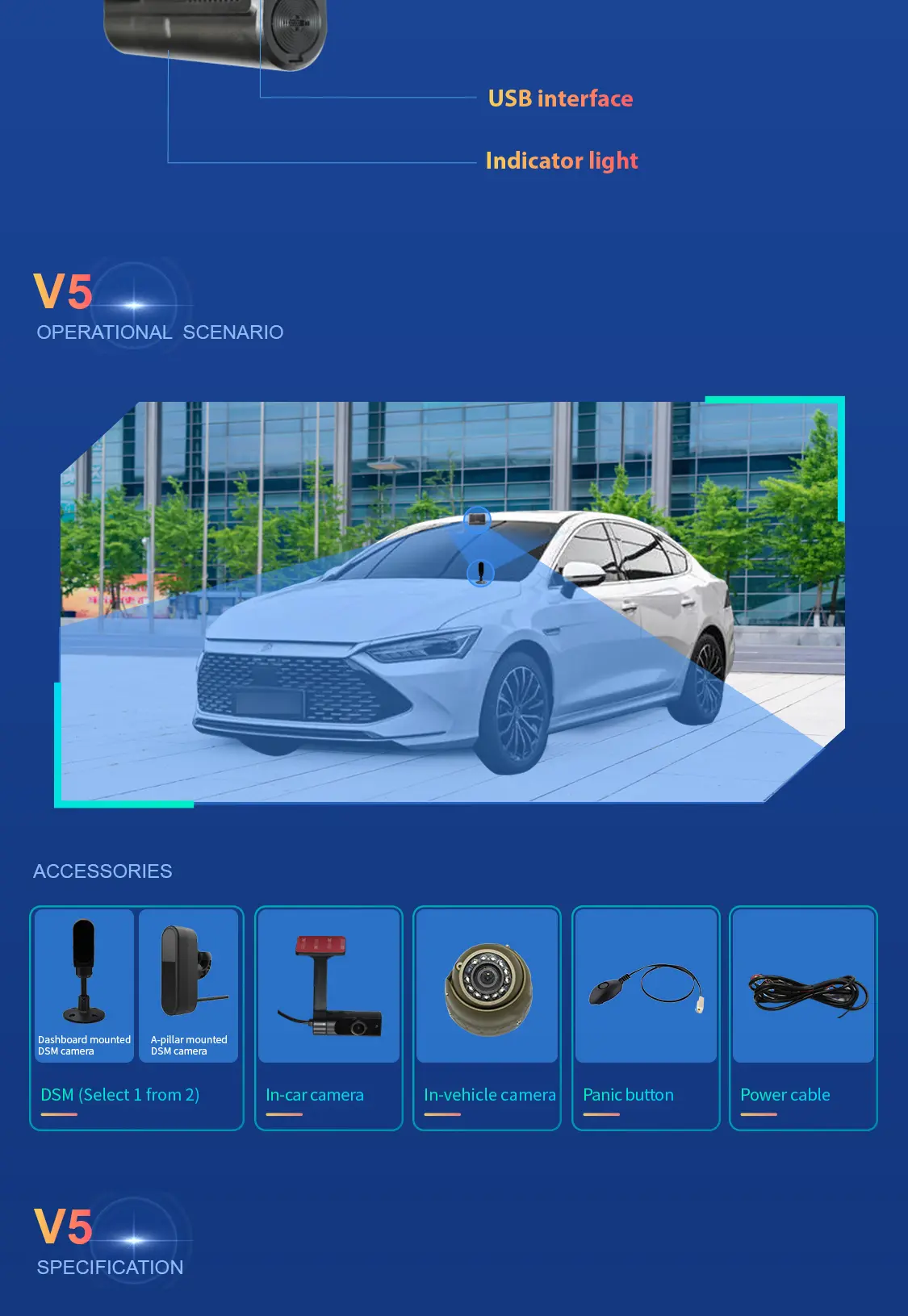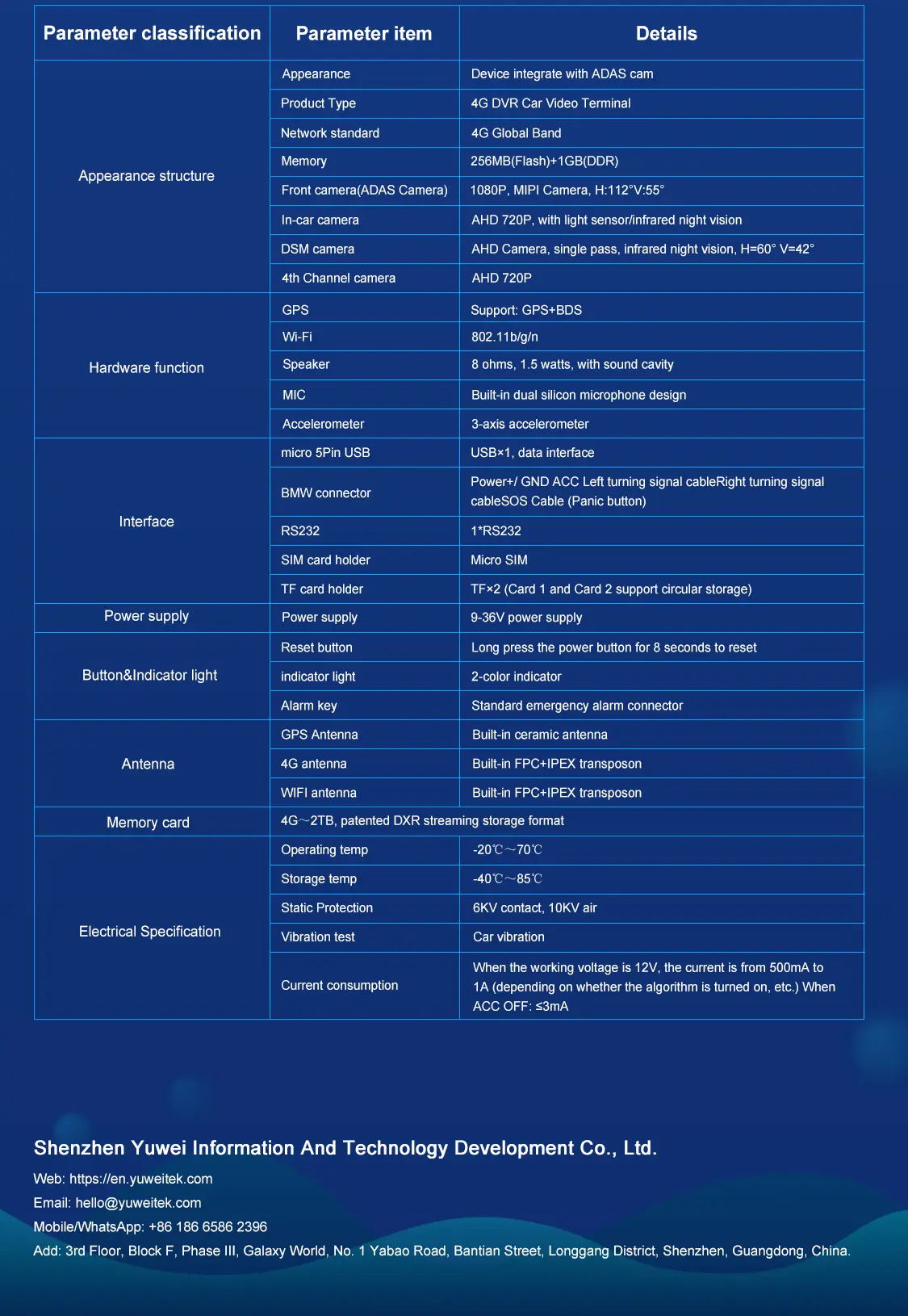 Driver Monitoring System (DMS)
The Driver Monitoring System camera uses artificial intelligence algorithms to detect the driver's state, such as fatigue driving (drowsiness, frequent yawning, droopy eyes) or distracted driving (making phone calls or sending text messages, looking elsewhere), and issues sound alerts to remind drivers to stay alert while driving. When used in conjunction with Tracksolid Pro, you can receive specific push notifications for DMS and view reports on distracted driving on your phone or online.
Cloud Storage of Event Videos:
When a collision or reckless driving behavior occurs, clear video clips will be captured as needed and uploaded to the cloud for evidential support and post-review. The reliable 4G module allows faster data transmission to the cloud-based platform, so you can respond or take action promptly.
Driving Behavior Analysis (DBA)
Utilizing data on reckless driving behavior will help reduce accident rates, guide drivers to improve road safety awareness, and enhance fleet fuel efficiency. This can further save on insurance expenses.

1. Harsh acceleration
2. Harsh braking
3. Sharp turns
4. Collisions
5. Real-time tracking
Emergency Button:
In the event of an accident or other emergency situations, pressing the emergency button (SOS) will trigger the device to assist the driver or passengers in initiating an emergency call to pre-set emergency numbers and the backend until the call is answered.
Benefits
Our Dash Cam has obtained UKCA certification and is a popular fleet dashcam in the UK. The larger the fleet scale, the more efficient resource management, cost optimization, higher security, and ease of handling maintenance issues are needed.